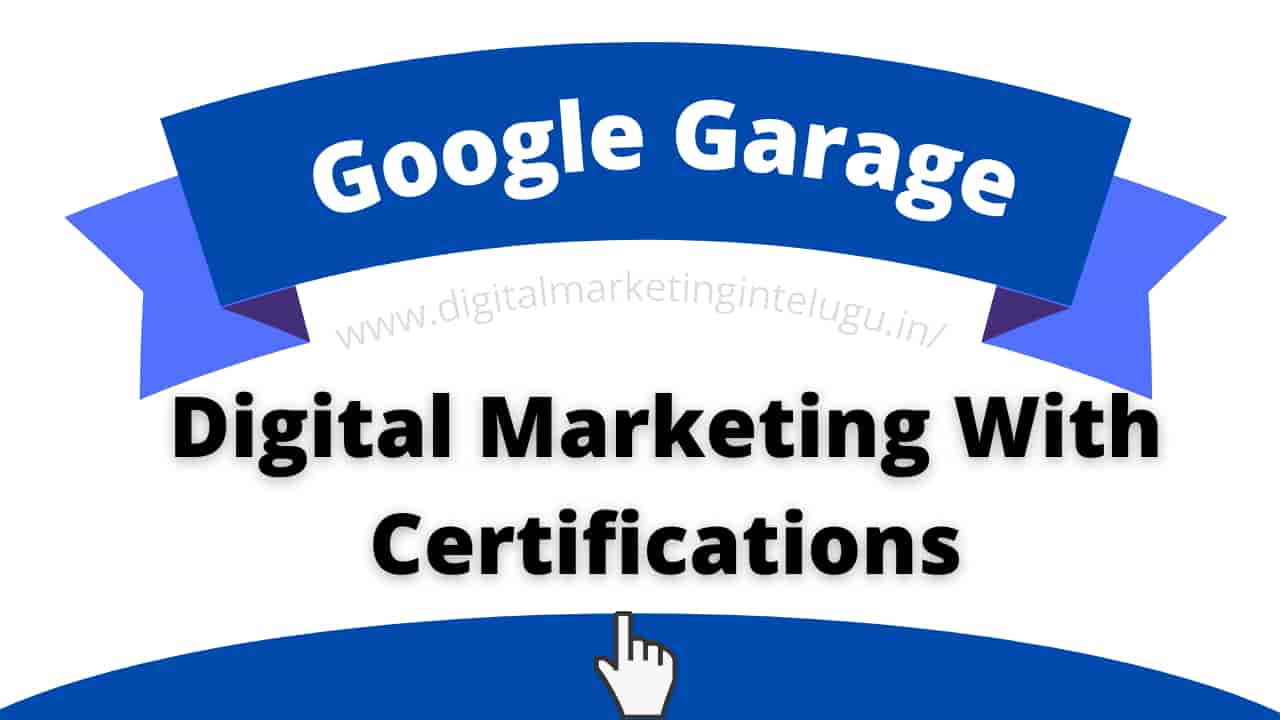 Google now offers a free digital marketing course With Certification, This course is among the most popular in Google's Digital Garage. You can also receive certification in Fundamentals of Digital Marketing.
Digital marketing is "Advertising via digital channels." Digital channels can include search engines, social media, web apps, and mobile apps.
The Digital Marketing Online Course Is Free for All with a Google Certificate. Use the Quarantine to increase your productivity.
Google Online courses are designed to help you grow your business or career.
What is Google Digital Marketing Certification (GDM Certification)?
After successfully completing the requirements of Fundaments of Digital Marketing Course, Google Digital Marketing Certification is awarded to you. Interactive Advertising Bureau Europe and The Open University have accredited the certificate.
This course is for people who want to learn the basics of digital marketing, or refresh their knowledge.
The Google Digital Garage library offers the Google digital marketing course. This is the only digital marketing course offered by Google Digital Garage that gives you a certificate. It consists of 26 modules, each requiring 40 hours of your time.
Google Digital Garage Google owns this learning platform. This is a collection of free online courses that are offered by Google's professional trainers and a variety other course platforms.
Google Digital Garage is designed to provide professionals with a flexible and easy way to acquire the skills necessary to be successful in business. It's worth exploring the other courses it offers.
Google Digital Marketing Course is Free
Yes. Registering is easy and free. Click the Register button to log in using your Google account, or register with a different email address.
After creating your account, you will be able to track your progress and download your certificate. You also have free access and use of all the online lessons as well as face-to-face workshops in Google Digital Garage.
It's a good course to follow?
You are searching for information that will help you jumpstart your career? Digital marketing job This course is for all. This Fundamentals of Digital Marketing course can be used for anyone.
who wants to learn how to market their business.
These are just a few reasons why you might want to take the Google Digital Marketing Certificate course.
It is easy to use.
The registration process is simple and the course layout is divided into into small parts. Each section of the course has anywhere from one to seven modules. These include videos and check-ins questions.
There are action items that you can implement to help your business grow in the digital world. The quiz is available after you have completed each module.
It covers the basics of online business
The internet is everywhere, and although it may seem unbelievable, many local businesses are not taking advantage of this new technology. This course is for people who are already online.Start a new online companyLearn how to make digital marketing a career.
This course will teach you How to create an online marketing strategy You can improve the website's ranking on search engines and use analytics tools for online performance analysis. This is a foundational step, but it's a must-have first step.
Learn Complete Digital Marketing Tutorials Now Click Here
A certification shows dedication and willingness to invest in your professional development.
Why not choose a course that offers a certification? It's a great way to show your commitment and drive!
It is a reliable and trustworthy source
Google is an expert in Google's field of Google Analytics. It can be overwhelming to search for the right online course. There are so many options.digital marketing certificate programs There are many out there. Google Digital Garage is a good option, especially if you want to learn the basics of online marketing.
It will give you confidence in your ability to learn current and legitimate information. You can also use this certification to add weight to your resume.
What will you learn in this course?
Although this course is free, it's robust and rich in foundational content. There are 26 modules and approximately 40 hours worth of videos, check in questions, and quizzes.
Start a business online
Make it easy for people to find a business on the web
Reach more people locally, via social media or mobile
Advertisement: Reach More People
Web traffic can be tracked and measured
Sell products and services online
Get a business global
Each section has modules that contain videos, quick check in questions, action items and a closing quiz. You can watch the videos, but you can also click the "view transcription" button and expand the text to read the entire course. This is also a great way for you to take your notes.
These sections contain detailed lessons on:
About web presence
Plan your online business strategy
Google Search: How to get found
Deep dive into social media
Mobile phones offer many possibilities
Online advertising: The intricacies
Analytics can help you achieve success
Your online shop is built
International expansion
Even though the title of the main sections seems a little basic, this course is foundational and provides valuable information that will help you launch your business or your career. digital marketing consultant To the next level.
for:
Must Read Articles:
Is Google Digital Marketing Certification Worth It?
Google Digital Marketing Certification is well worth the effort. If you are interested in a career in digital marketing, this is the course for you. It's offered by Google and is free. Open University and other organizations have also accredited it.
We understand that finding the right online course can be exhausting and overwhelming.
These are just a few. online courses They are the best way to expand your knowledge and skills in order to advance your career or grow your business.
We have already provided a list of the best digital marketing courses We are going to now give you a more detailed review of one of these courses.
So that you can make an informed decision about whether the Google Digital Marketing Certification is right for you, we are going to dive into it.
This review will cover everything you need about the Google Marketing certification.
How can I become certified in Google Digital Marketing?
After passing the 40-question exam and completing 26 modules,
you will be awarded your Google Digital Marketing Certificate.
After passing the final exam, you can download the PDF from the course page to obtain your certificate.
Interactive Advertising Bureau Europe and The Open University have accredited this certification. This certification internationally recognized.
Google Digital Marketing Certification Options
As you probably know, there are many online courses that can help improve your business skills. You may not find the right course for you. If that is the case with Google Digital Marketing here are some options.
Related Google Display Network Ad & Search Certification Courses Free Questions:
Click Here To Get ?: All Google Ads Question and Answers at single Place
Tags:
"google garage digital marketing answers"
Digital Marketing Google Garage