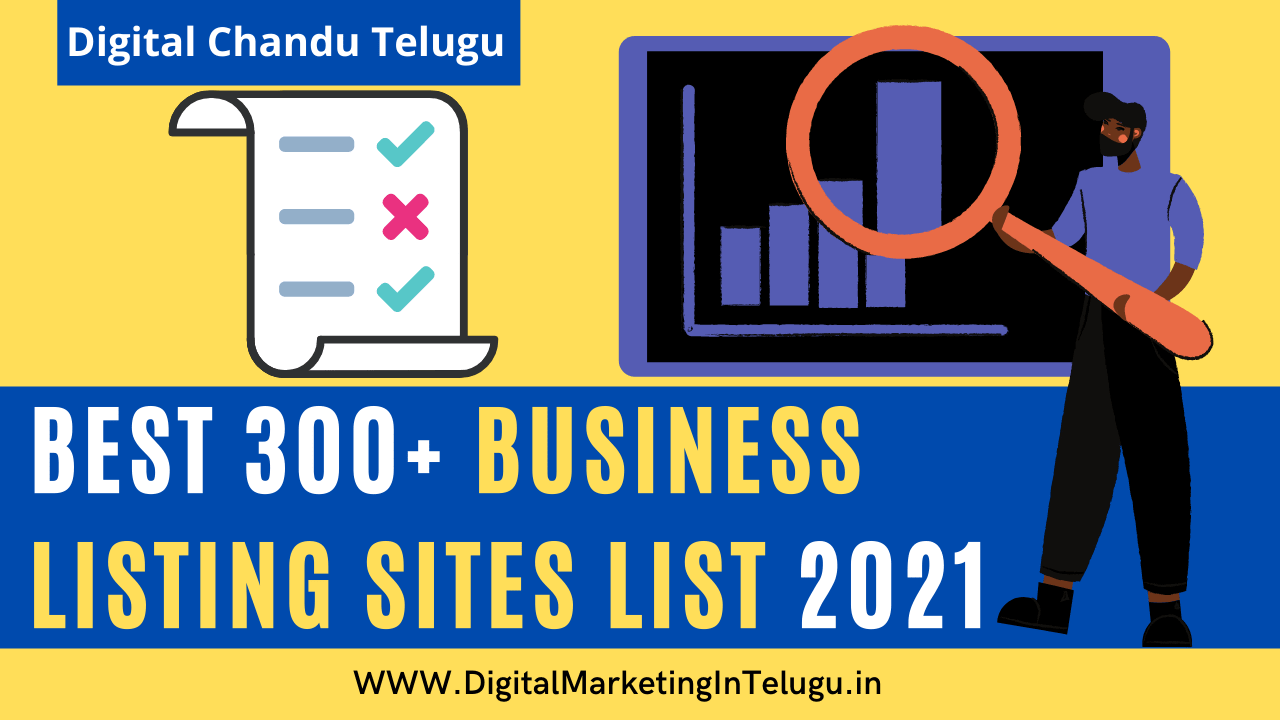 What Is Business Listing?
Free Business Listing Sites For You: A Business Listing is a public profile that contains vital information for a company such as name, address, number, website, working hours and more. They serve as a "virtual gateway" for local businesses and can (and must) be found in hundreds of online directory listings and directories throughout the web. Some directories are element-specific, although many (such as Google+, Yelp, Yellow Pages, etc.) are public links to all businesses.
Learn Complete Digital Marketing Tutorials Now for Free Click Here
What Are Business Listing Types:
Individual ( Personal )
Local Business ( Location Based )
Corporations
Partnerships
Limited liability companies
Why Business Listing important?
Local companies need lists to be found, and consumers need lists to find the products and services they're looking for! If you want to put yourself well in local search, your company will need consistent NAP data (name, address, phone number), website, schedules, and more in all the main menu directories. This is essential for search engines to validate as a trusted local business.
The more accurate and consistent the data is about a business on the web, the more search engines will trust the health of a business. The most reliable search engines in the business, the higher will be located in the local SERPs (search engine results page).
What Are the Benefits of Business Listing Sites:
Enlarge your business quickly: Imagine that you have been online through a local online directory. You can easily access local customers.
Getting the best position: Advertising your business to a specific area has many advantages. For local entrepreneurs, it's an opportunity.
Developing a brand image: Your local business also needs to manage your brand and create photos.
Trusted Brand: Imagine you've made your online presence through a local online directory, people will trust your brand and a good review will drive you to buy your products.
Free Business Listing Sites
What should your lists include?
The most important list of companies' data is NAP data: name, address and phone number. But:
86% of companies have misplaced or Missing company name information in all register sources!
Another vital part of the information to include is business hours.
76% of consumers reported that they expected hours of operating information when conducting a search!
93% of businesses have missing or incorrect information from a website that appears in all sources of lists
Choose the right online Business Listing.
A competitive local company will not give up strong and powerful advertising capabilities to a large extent for online advertising, but it's important to increase your return on investment by allocating staff hours efficiently. There are two considerations here:
You must specify which platforms make sense to include them. It is not good practice to allocate hundreds of hours to appear in every search engine, index, or application, simply because of its presence. Instead, choose the main function (Google My Business, Facebook, Yelp, YP, etc.), then select other platforms that are highly relevant to your company's industry or geography. They are included only in quality places, you will not waste race sweat.
Creating local business listings can be difficult and boring. It's exciting to collect your best data in a spreadsheet, but it's not fun to enter this data over and over again in different platforms. This has resulted in automated solutions for the effective management of location data such as Moz Local. These solutions allow you to complete one form, distribute your data on high quality platforms, and monitor them constantly to check for progress and changes. You can always add automatic momentum to the major currencies with a small time investment in creating listings on geographic / industry platforms, but the fact is that automation reduces load and reduces human error and leaves your team free to focus on more. Creative projects.
Tags:
business listing sites free
List Of free online business listing sites list
Best free business listing sites
free business listing sites in India 2021
top 100 business listing sites in India