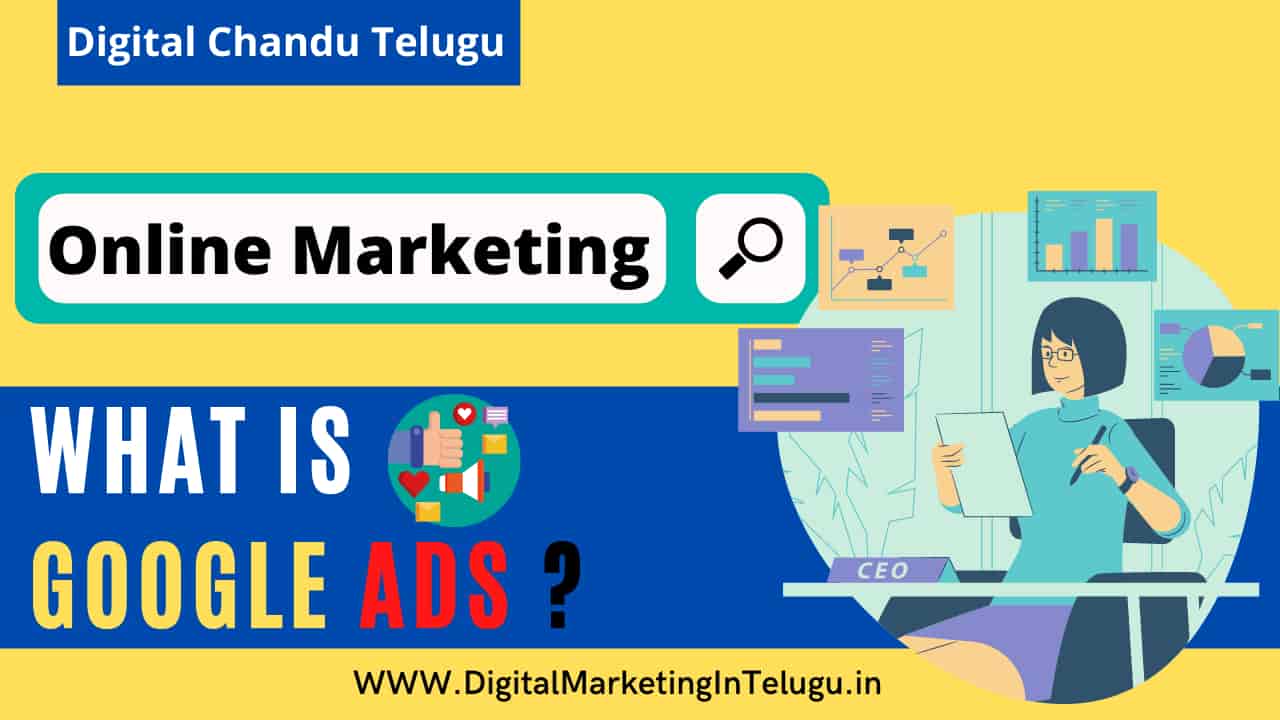 What Is Google Ads?

Google Adwords is a Google's Software that helps online businesses market online by placing Banner ads, Image ads, Text ads for mobile devices, and video ads on the page. AdWords is not like other Google products: you need some skills and training to use them correctly. Google Adwords helps online entrepreneurs create PPC (pay-per-click) campaigns that attract visitors to particular websites
Explanation:

Good online marketing professionals attract core, advanced Google AdWords courses to get the best out of Google Adwords. "Is this difficult?" , You could ask. Yes it is. That's why I extremely advise hiring a PPC expert instead of creating a PPC campaign on your own. Here are a few reasons:
Well, there are dozens of tools and jobs that are useful for an online business and useless for another online business, and an expert (the person with the skills and experience) knows the best tools available to you
Learn Complete Digital Marketing Tutorials Now for Free Click Here
To create an effective PPC campaign (keep in mind that an effective PPC campaign means a cheaper PPC campaign, and that what most entrepreneurs want at least during the start-up phase) is about the exact keywords, accurate and effective. Searching for the right keywords is an art in itself and online marketers use many expensive tools to find the best keywords for a particular business.
Managing an Google Ads account is not an simple task, we need experience on it. In addition, structured analysis of user performance is a essential for a successful campaign. Analyzing user performance can frequently help promote your products or services better and prevent you from clicking on scams. Fraudulent clicks can exhaust your business, and make sure you know how to make PPC campaigns effective.
Why do I need google ads?

Every little business owner knows that having a great website is not sufficient in today's competitive digital World. Can Google AdWords help?
How do you Create and stand out from the competition and acquire more clients to visit your website?
AdWords is the sites listed at the top and bottom right of each Google search. These are sites that call the search engine's attention first.
AdWords is where you want your business to be when customers search on Google for your products or services.
You will catch immediate results. With a well-managed AdWords marketing campaign, your company will achieve the highest Google search results.
You'll see an increase in website traffic right away. The best thing is that customers visiting your site are the most likely to buy since they're looking for your products and services based on your targeted ads.
AdWords ads are not free of charge, even though they can be very profitable.
You control your spending amount and decide where your ads display: local, city, and country wise. There are no high costs. You pay only when someone Hit your ad. You make a decision how much each Hit is worth For and how much you want to pay out Every month.
You'll know when the ad is translated into a sale and the number of new customers you'll receive from your AdWords campaign.
You will know closely where these latest customers come from and what they do when they visit your website.
This is because AdWords has created Google Analytics. Together, these powerful tools provide incredible statistics and data to make your website more profitable.
Follow Digital Chandu On Social Media
AdWords gives you the information you need to maximize ROI and grow your business.
Many selling business owners do not have the time or experience to make the most of AdWords. They feel it is better to spend their time managing their business.
"Why do we use Google Ads" and "Does Google Ads work?" These are very common terms for keywords that are searched on Google, indicating that there are many advertisers and business owners who have heard about Google AdWords but are not sure how they can work for them.
AdWords Is Google's exceedingly successful pay-per-click advertising system (PPC), It can work in almost any type of business.
Using AdWords (or any PPC platform) takes time and money, but thousands of companies have discovered that it's time to spend money, because AdWords offers a measurable return on investment.
But if you havn't used before Google AdWords and wondered if it's worth it or not, this publication is for you. Here are four Great reasons and Features to use AdWords.
Google AdWords Is Scalable
Ads Is Measurable
AdWords Is Flexible
AdWords Is Faster than SEO
KeyWord Research Tools:
KeyWord Planner
Ubersuggest
Keyword.io
LSI Graph